On the 1st day of running my loved on gave to me… A StrideBox Subscription
On the 2nd day of running my loved one gave to me… A Bottle Band 
On the 3rd day of running my loved one gave to me… Running Books
On the 4th day of running my loved one gave to me…Bia Sport Watch
On the 5th day of running my loved one gave to me…Pro Compression Socks
On the 6th day of running my loved on gave to me…Race Bib Displays
On the 7th day of running my loved one gave to me…Safety Lights
On the 8th day of running my loved one gave to me…Headphones
On the 9th day of running my loved one gave to me…Rundana
On the 10th day of running my loved one gave to me…A Foam Roller
On the 11th day of running my loved one gave to me…
A Runners Coupon Book
If you are budget conscious, your runner already has everything, or you already got your runner everything, we have idea for you.  The runners coupon book!
We have all gotten a coupon book for a gift at some time in life. Maybe the kids promised not to argue for a day, or your loved one promised to make you dinner. Now it's your turn to give some promises. Maybe it is free running time. How about no complaining about the next sherpa duty? The post run foot rub is something no one really wants to do, but every runner desperately hopes for.
You get to customize this gift specifically for your runner. You can also add items to the coupon book that can't be wrapped. If you want to buy your runner a professional gait analysis or a massage you can build a coupon book around the special item.
All you need is some paper and a pen. You can get as extravagant as you want without breaking the budget this holiday season. If this sounds like the idea of the century to you, but it feels daunting, don't worry. There is help out there for you!
American Greetings has holiday templates to help you. They let you customize the cards and print them out.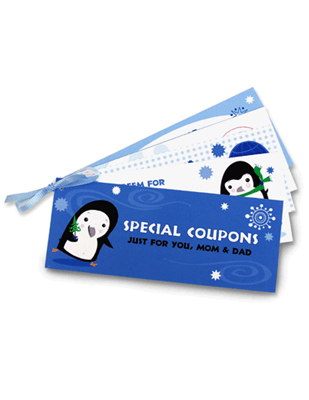 New Dream also has a template with step by step directions. This one is great if you want the kids to put it together.
And last, but not least. If you need options, this page has them for you. 50 ideas and links to coupon books.
We are there is just one more post about gifts for runners! The holidays are fast approaching. What are you getting for your runner?